Open and Closed Case Carts
Case carts provide secure, standardized, instrument transport between the OR and SPD. Belimed offers robust, maneuverable, and classifiable closed-case carts for secure instrument transport between the OR and SPD along with highly visible open-case carts for transport within the SPD, in a wide range of sizes.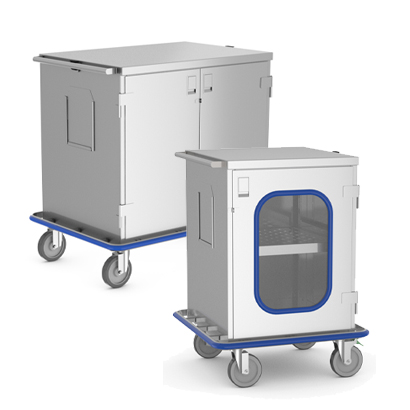 Case Carts: Closed
The Closed Case Cart line includes 6 cart sizes, with a wide range of available heights, widths, and lengths.
The Closed Case Carts are distinguished by the following features:
All Welded Type 304 Stainless Steel Construction
Interlocked Internal Frame Construction
Two Robust Perforated or Solid Stainless Steel Shelves Standard
Standard Card/Documentation Holder
Positive-lock Door Latches
Heavy-duty Door Tiebacks
Integrated Push Handles
Non-marring Wrap-around Bumper
Glass Doors Option Available
Standard Cart Washer-compliant 6 Inch Stainless Steel Casters
Accessories
Glass Doors Options
Shelves: Perforated or Solid; Adjustable Roll-out or Non-Roll-Out
Vertical Handles for Taller Carts
Casters – Standard or Heavy-duty; Swivel or Locking
Security Aids like Clean Dirty Indicator and Tow Hitch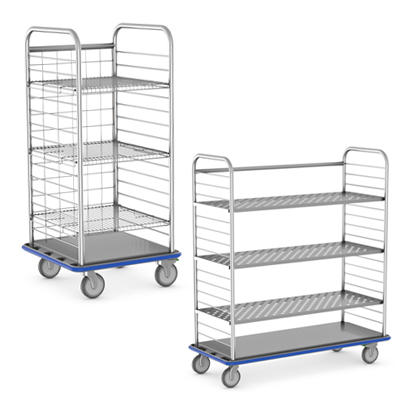 Case Carts: Open
The Open Case Cart line is ideal for high-visibility storage or distribution of supplies and case sets and is also available in a wide range of heights, widths, and lengths.
The Open Case Carts are distinguished by the following features:
Open-frame Case Carts, Ideal for High-visibility Storage or Distribution of Supplies and Case Sets.
Unit Dimensions Ranging from 24"-30" D x 24"-60" W x 37"-67" H
Tubular Type 304 Stainless Steel Construction
Top Stainless Steel Guard Rail
One Adjustable Solid Stainless Steel Shelf Standard
Fixed Stainless Steel Top and Bottom Shelves
Non-marring Wrap-around Bumper
Standard Cart Washer-compliant 6 Inch Stainless Steel Casters